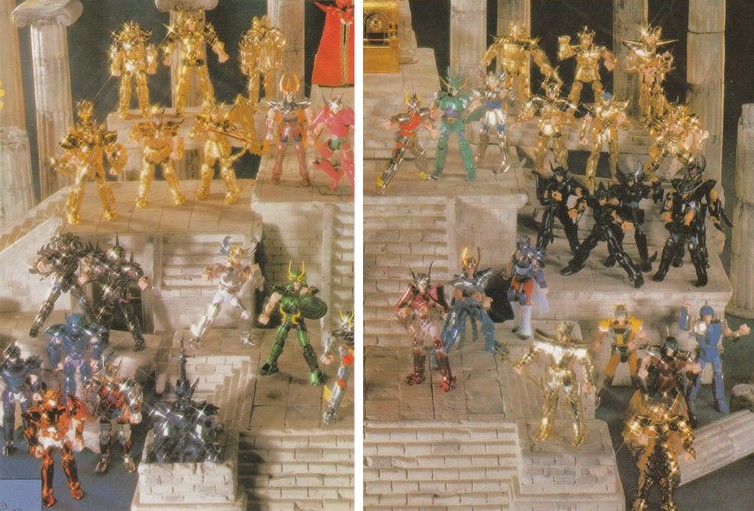 The Toy Reunion Web Page
[For more info on Saint Seiya toys and figures, go to Merchandise section of Seiyapedia article here]
Vintage Toys
Saint Cloth Series
Bronze Cloth
The initial boxes for the first 5 Bronze toys had transparent windows for you see the toy. Later they were
changed to just a box.
Pegasus Seiya:
Dragon Shiryu:

Cygnus Hyoga:


Andromeda Shun:

Phoenix Ikki:

New Pegasus Seiya:

New Dragon Shiryu:

New Cygnus Hyoga:

New Andromeda Shun:

New Phoenix Ikki:

Silver Cloth
Eagle Marin:
Steel Cloth
Sky Tucana Shou:

Land Fox Daichi:

Marine Swordfish Ushio:

Gold Cloth
Aries Mu:

Taurus Aldebearn:

Gemini Saint:

Cancer Death Mask:

Leo Aiolia:

Virgo Shaka:

Libra Dohko:

Scorpion Milo:

Sagittarius Aiolos:

Capricorn Shura:

Aquarius Camus:

Pisces Aphrodite:

God Robe
Alpha Dubhe Siegfried:

Beta Merak Hagen:

Gamma Phecda Thor:

Delta Megrez Alberich:
Epsilon Alioth Fenrir:

Zeta Mizar Syd:

Eta Benetnash Meeme:

Scale
Sea Horse Baian:

Scylla Io:

Chrysor Krisna:

Lymndes Kaza:

Kraken Isaac:

Siren Sorrento:

Sea Dragon Kanon:

Poseidon Julian:

Mermaid Tethys:

Limited Edition
Black
Black Pegasus:

Black Dragon:

Black Swan:

Black Andromeda:

Black Phoenix:

God Robe
Zeta Alcor Bud:

Campaign Items
Odin Robe, it comes with the Robe only, in this pic they got Seiya's head with Ikki's body:

New Black Pegasus:

New Black Dragon:

New Black Cygnus:

New Black Andomeda:

New Black Phoenix:

Memorial Version
Gold Pegasus Seiya:

Gold Dragon Shiryu:

Gold Cygnus Hyoga:

Gold Andromeda Shun:

Gold Phoenix Ikki:

Colosseum
You can put many characters inside the backs of the Colosseum:
Prototype
Black Steel Cloth:

Design Only
Pegasus Ryu Sei Ken

Laser Ryu Sei Ken

This toy is for 2 people. It is a laser tag game:



Candy Toys
Sagitta, Orion, Lyra, Eris, Scutum, Southern Cross:

Meeme, Fenrir, Hagen, Syd, Bud:
Colored: Roshi, Ohko; Not Colored: Reda, Spica

Top: Frey, Freya, Hilda; Bottom: Dolbar, Loki, Migard

June, Saori, Shunrei:

Top: Siegred, Thor; Bottom: Fleur, Aberich

Top: Gigas, Paeton, Agora; Bottom: Fiery Saint, Spartan, Geist

Top: Uru, Rungu; Bottom: Shiva, Albiore
Top: Ares, Crystal Saint, Docrates; Bottom: Land Cloth, Marine Cloth, Sky Cloth

Transparent Cloth


This is the transparent cloth pieces you put on your Saint Cloth Series Figure:

Heavy Metal Saint Cloth
There were fakes made of Gold Saints and God Warriors.
Pegasus Seiya:

Dragon Shiryu:
Cygnus Hyoga:

Saint Paraise
The fakes are really good, too with slightly different colors.

Capsule
Don't let the word Capsule fool you. These toys can be as big as 3 inches.
10 Bronze, Marin, Cassios:
Cassios, Saori, Kiki:

Silver Saints, Ares, Steel Saints, Roshi:

Reda, Spica, Shunrei, Gigas:

Close Up Saint
These toys are still sold in some HK shops at high prices:

Cloth Box Toy
There many different kinds. The ones I own are a little different than the pic:

Aries Box with Aries Mu in Gold and Bronze color:

Sagittarius Box, Cancer Death Mask, Capricorn Box:

New Cygnus and Pegasus Box. Look carefully the Cygnus is different the usual way the Anime staff draw New Cygnus
Cloth:

Saint Paradise Mini Toy
Aries Cloth and Mu:

Andromeda Cloth and Shun:

Plastic Model
Twin Cloth
Bronze and Black
Pegasus Seiya:

Dragon Shiryu:

Cygnus Hyoga:

Bronze and Gold
New Cloth

Gold Cloth
This models come all Gold, the orange is painted. I would perfer not to paint it. It's already beautiful!
Gemini Saint and Pope:


Cancer Death Mask:

Leo Aiolia:

Virgo Shaka:



Libra Dohko:


Scorpion Milo:

Sagittarius Aiolos:


Capricorn Shura:

Aquarius Camus:

Pisces Aphrodite:
Full Action
Left: Pegasus Seiya Gold Version; Right Pegasus Seiya, Gemini and Pope

Sagittarius Aiolos:

Saggittarius Aiolos DX, this is the best toy I have ever seen. 1/8 size Sagittarius Aiolos. If they made all 12 Gold Saints, I
would have brought every single one:


Kaiyoudou Model
Cloth Series
There are alternate styles of Cloths
Aries Cloth, my uncle built it and painted it for me!! He even made an original stand!!

Cancer Cloth:

Scorpion Cloth:

Hades Chapter:
Milo, Shura, Camus, Saga and Dagger, Shaka and Beads, Saori:

Camus, Saori:

Shaka and Beads, Saga and Dagger:

Hyoga in Hades Chapter Bronze:

Camus:

Milo:

Shura:

SD Model
Bronze Saints, Gold Saints, Saori, Kiki, Pandora, Sion and Gold Saint in Surplice:
Other Model
Pegasus Seiya: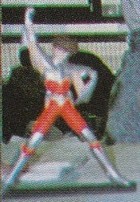 Syd, Siegfried, Hagen:

Coming Soon: Toys Between Eras, New Toys...


You can E-mail me at: philipho188@gmail.com
The Saint Seiya Toy Reunion Web Page produced by Mu's Corner. All Rights Reserved.